Dopo 2 anni ritornano le iniziative per il 50° ferragosto castellano, musica dal vivo, danza, enogastronomia, cultura…
Ecco il programma ricco di eventi:
12-13-14-15 Agosto
Alla scoperta di antichi sapori: percorso enogastronomico a cura di Music On
12 Agosto
· Rocco Fiore
· Tiziano Cillis Duo
· The JeKis
a cura di Music On
13 Agosto
· Agape danze popolari
· Space Funkers
· New Dance Academy
a cura di Music On
· ore 22:00 Duo MusiKaViva
· ore 23:00 Dj set by Leo Zag
14 Agosto
· Spettacolo tessuti aerei
· Matteo Zaccagnino & the Stoics
a cura di Music On
· ore 21:00 Keysaral_Rock Italiano
15 Agosto – IL LUNGO GIORNO DEI POPOLI
· 05:30 – Concerto all'alba, terrazza sul vulture. Quintetto di Ottoni "Lucania Brass", direttore artistico Fabio Silvestro
· 09:00 – Celebrazione eucaristica in onore di Maria Assunta in Cielo presieduta da Rev.do Mons. Francesco Sirufo Vescovo di Acerenza
· 13:00 – Pranzo in piazza alla scoperta di antichi sapori (solo su prenotazione) a cura di Music On
· 18:00 – Parata dei popoli per le vie del borgo
· 21:00 – Babylonica_26° Incontro internazionale tra culture.
16 Agosto
Mostra fotografica a cura de Il Falco
22 Agosto ore 21:00
Narrazione 70 anni dell'AC Lagopesole, spettacolo musicale a cura di AC Lagopesole.
23 Agosto ore 21:00
Un paese nel pallone a cura di AC Lagopesole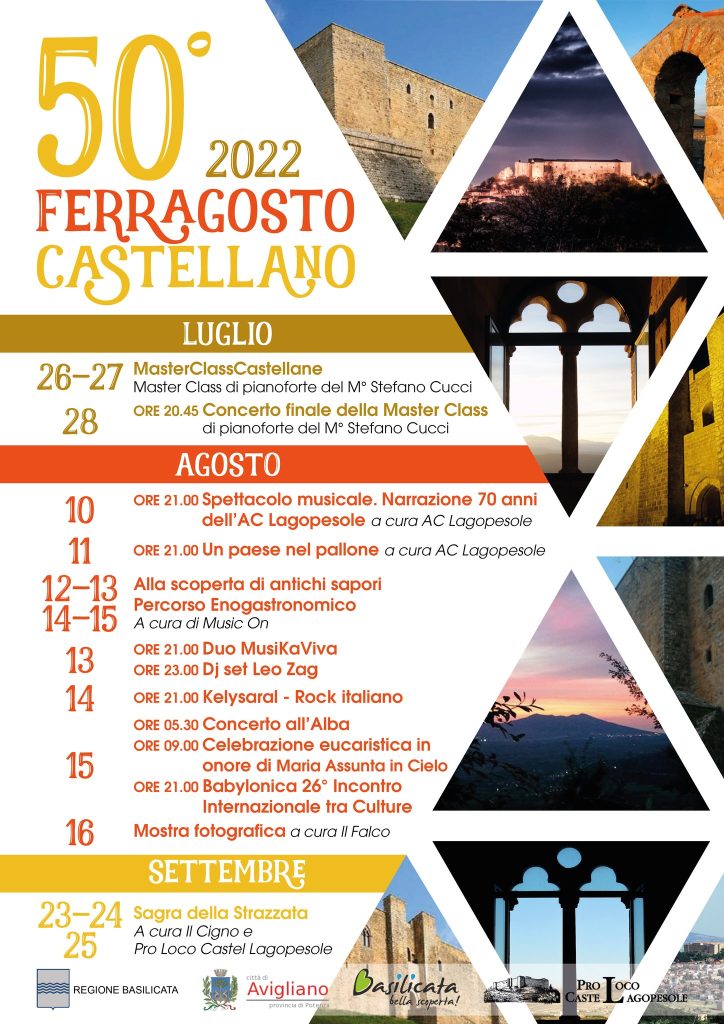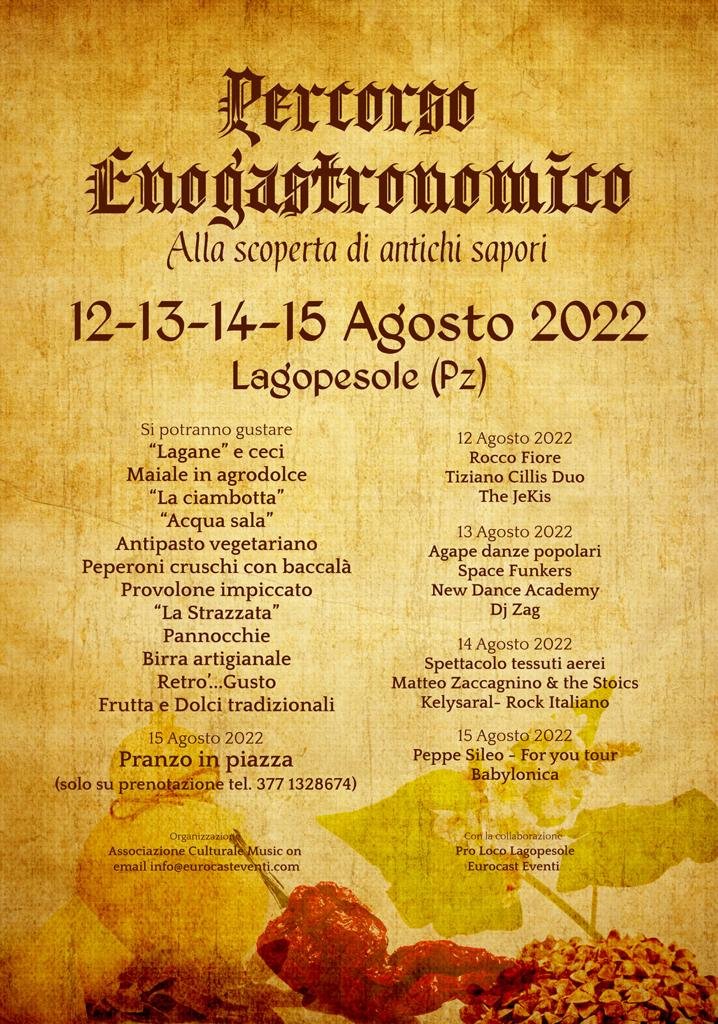 50° Ferragosto Castellano